Our certificates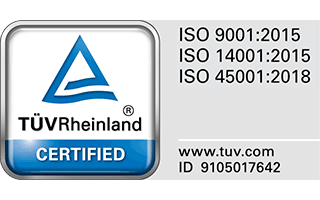 In November 2001, Drill-Lab was certified by TÜV Rheinland in accordance with the standard ISO 9001 for its main business objectives, which are controlling and monitoring the drilling process and accompanying activities while performing oil or geological drilling.
September 2011 witnessed the ISO 14001 certification, which proved our commitment to the continuous improvement approach to monitor and minimize our impact on the environment, as well as foresee accidents and incidents.
Since December 2014, Drill-Lab has been OHSAS 18001 certified in relation to the prevention of occupational hazards.
In December 2020, ISO 45001 certification replaced OHSAS 18001.
It is worth mentioning that all the standard are part of Drill-Lab's Integrated Management System, which combines commitments to quality, environmental protection and safety of people in the workplace.